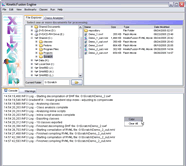 PLEASE NOTE: KINETICFUSION WAS TRANSFERRED to QDC IN 2007
AND IS NO LONGER COMMERCIALLY AVAILABLE.
KineticFusion transforms the process of analyzing and authoring of SWF movies. SWF files, the native format for Adobe® Flash™ can be fully represented in Rich Vector Markup Language (RVML). Our processing engine can decompile SWF to RVML and compile RVML back into native SWF format. All resources including ActionScript, sound, video, fonts, images and components can be extracted and added, movies can be viewed and manipulated using external development tools, versioned, stored, and translated to other XML UI dialects such as SVG, or XAML.
KineticFusion 3.0 Developer Edition
The KineticFusion Developer Edition provides all the features of the KineticFusion technology for users working in a desktop environment. It can be used interactively through an feature-rich Graphical User Interface, or through a command-line interface enabling integration with Ant and other automation tools.
Featuring an advanced ActionScript 2.0 compiler with over 100 configurable semantic warnings, metadata support, and optimized class caching, the Developer Edition is ideal for Flash power users.
KineticFusion 3.0 Server Edition
The Server Edition provides access to the capabilities of the KineticFusion technology through a high-level Java API . This is intended for developers wanting to integrate KineticFusion features into multi-threaded Web applications.
With its powerful support for Component-based development, dynamic Data Sources and user Tag Library extensions, developers can create dynamic user interfaces that are individually customized to each user and device.